Alex é um dos personagens de O Segredo de Henri. Ele faz sua primeira aparição em "O Encontro". É o irmão mais velho de Layla.
Página de Contato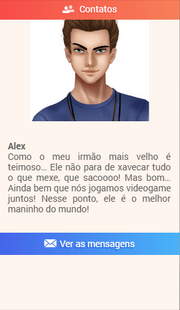 Aparência
Alex é moreno de pele bronzeada e olhos azuis.
Personalidade
Alex, o irmão mais velho de Lyla, tem o dom de se meter onde não é chamado. Ele consegue ser irritante e protetor ao mesmo tempo. Ele é muito bom em conseguir informações, por conta dos seus informantes.
História
TBA.
Curiosidades
Ele é aparentemente mulherengo.
Seu cantor favorido é o Tommy.
Referências
Ad blocker interference detected!
Wikia is a free-to-use site that makes money from advertising. We have a modified experience for viewers using ad blockers

Wikia is not accessible if you've made further modifications. Remove the custom ad blocker rule(s) and the page will load as expected.